Fresno Financial Planner: October 2020 Highlights
Fresno Financial Advisor News: Feeling Financial Stress? Here's How to Cope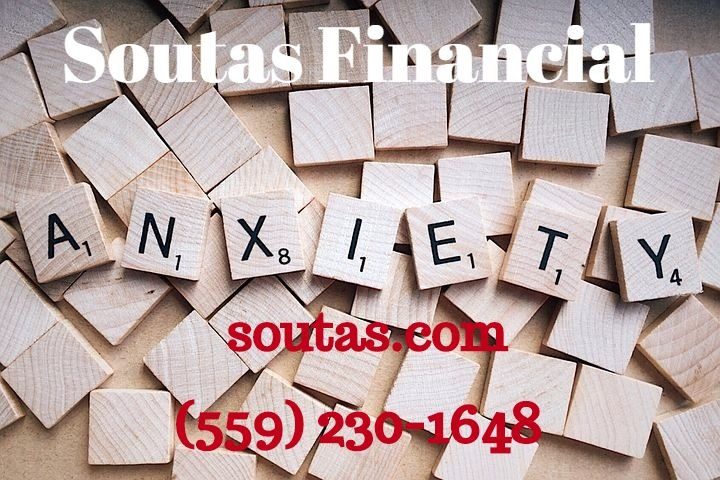 When the coronavirus first began to reveal its ugly head in America, people were concerned. Not just about their health, but about their finances. Nearly nine out of 10 people (88%) surveyed by the National Endowment for Financial Education said they were worried about their financial situation.1
Financial stress is not exclusive to lower-income workers. In fact, during this particular crisis, many lower-income jobs are deemed "essential services" and are in high demand. Professionals employed in other industries, such as physicians, dentists and many small-business owners, have had to reduce their client base and/or temporarily close shop altogether. Nearly eight out of 10 (79%) people with a household income of more than $100,000 a year report being at least somewhat concerned about their finances.2
Take Charge
One way to handle financial stress is to deal with it head on. Take stock of the resources you do have; this may or may not help you feel better. Either way, knowledge is power. We may not be able to control the virus or its toll on the U.S. economy, but knowing what we have gets us one step closer to developing a plan for financial sustainability. For example, your personal financial assets may include: Savings accounts, Investment accounts, Retirement accounts, Health savings accounts, College savings accounts, Whole life insurance, Real property, Structured settlements, Vehicles (auto, boat, motorcycle, recreational), Art, jewelry, wine or other high-value collectibles, Expensive furnishings and household items.
Fresno Retirement Consultant News: Policy Issues, Stock Market Performance and the Election
The 2020 election presents an interesting distinction between candidates. While historically, the incumbent president has offered a certain stability for another four years, Donald Trump's style of governing could be considered unorthodox and unpredictable at times. In contrast, former Vice President Joe Biden served for eight years under President Obama, and many feel his track record and style of governing may actually be the more predictable of the two.
Putting personal characteristics aside, each candidate's stance on the policy issues can offer some clues as to how the country may respond under the next president — and the nation's potential for economic growth in the future.
Policy Issues
According to recent surveys conducted by Pew Research, nearly 80% of registered voters report that the key to their vote will be the candidates' policy direction for the economy.1 This is particularly important right now given this year's rapid decline in growth and employment due to the COVID-19 pandemic.
Fresno Financial Consultant News: College Disrupted
Colleges all over the country have introduced incoming freshmen to orientation online, an entirely different experience. The online format offers several advantages in that more information can be presented and web pages bookmarked for future reference. This may be preferable to the barrage of information students normally receive during a seemingly rushed one-to-two-day orientation. However, many students have expressed concerns about not getting to tour the campus and get a feel for where their classes will be held.1
The economic impact of the coronavirus has likely affected everyone in one way or another. If you having been paying or saving for a child to attend college this fall, you may want to reconsider your options. Many students take a gap year before or during college either for another type experience or just to grow up a little more before living on their own. The pandemic makes this a more viable option. One of the benefits is a gap year could give families a little more time to save and potentially earn more from their investments. If you'd like help assessing your situation and exploring ways to help protect or potentially maximize your savings, we're here to assist you.
One of the biggest concerns is the possibility that students won't be able to attend college campuses in the fall, given the current rise of outbreaks in different parts of the country. Fortunately, most colleges finished out their spring semester by moving to an online format as students returned home. With many of these logistics already worked out, it's possible online classes will be far more prevalent for the rest of 2020 and even beyond.
Fresno Retirement Advisor News: The Highs and Lows of Dollar-Cost Averaging
Investors who defer the same amount of money from their paycheck into a 401(k) plan at regular intervals are practicing dollar-cost averaging. By investing the same fixed dollar amount each time, the investor buys more shares when prices are low and fewer shares when prices rise.1 The long-term effect is that the average cost of each share purchased will be lower than the average share price.2
This strategy can work great when you are trying to accumulate assets for your retirement. But what happens when you withdraw from your investments for retirement income? While dollar-cost averaging reduces the risk of investing a lump sum of money when prices peak, it increases your risk of losing previous gains if you withdraw money when prices have dropped. If a retiree receives automatic systematic withdrawals for a fixed level of income, then in months when share prices drop, he or she will likely have to sell more shares to raise the needed money. Once those shares are sold, they never have the ability to recover lost gains.3
To create a more prudent income distribution plan, you may consider incorporating some solid, reliable income in your portfolio, in addition to Social Security benefits. This could mean government-backed bonds or an insurance-backed annuity.4 If you'd like to discuss how to position your assets to combine both guaranteed income and growth opportunity, please contact us.
When searching for Fresno financial advisors, look no further than Soutas Financial & Insurance Solutions Inc. your Fresno financial planner is committed to helping take the complexity out of retirement planning. By using a variety of insurance and investment strategies that focus on Asset Protection, Long-Term Care Strategies, Legacy Planning, Tax-Efficient Strategies, IRA, 401(k) & 403(b) Rollovers, Life Insurance Annuities, Medicare, we can help you develop an overall retirement income strategy specific to you and your family. We have a strong team of professionals helping ensure you receive all the assistance you need not only in developing your retirement income strategy, but in maintaining it throughout your retirement. Contact us today at 559-230-1648 or visit us today at Soutas Financial to get your retirement plans on track for success!Schedule Your Tele-Visit!
Other Fresno Financial Advisor Articles

Our firm is not affiliated with the U.S. government or any governmental agency.

We are an independent firm helping individuals create retirement strategies using a variety of insurance products to custom suit their needs and objectives. This material is intended to provide general information to help you understand basic retirement income strategies and should not be construed as financial advice. Investment advisory services offered only by duly registered individuals through AE Wealth Management, LLC (AEWM). AEWM and Soutas Financial & Insurance Solutions, Inc are not affiliated companies. California Insurance License # OK48173

The information contained in this material is believed to be reliable, but accuracy and completeness cannot be guaranteed; it is not intended to be used as the sole basis for financial decisions. Investing involves risk, including possible loss of principal. Insurance product guarantees are backed by the financial strength and claims-paying ability of the issuing company. Diversification cannot ensure a profit or guarantee against losses in a declining market. If you are unable to access any of the news articles and sources through the links provided in this text, please contact us to request a copy of the desired reference. 722736 – 9/20