Fresno Financial Consultant: November 2020 Highlights
Fresno Financial Advisor News: The High Price of Health Care in America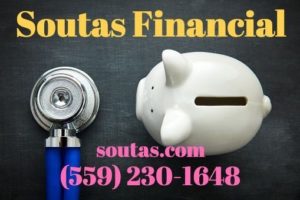 If the U.S. health-care sector was a separate country, it would be the fourth largest economy in the world when measured by gross domestic product. Currently, the nation spends an average of $3.5 trillion annually on health care, more than Australia, Brazil, Canada, China, France, Germany, Italy, Japan, Spain and the United Kingdom combined.
1
If you break that down by how much we spend per capita compared to other countries, it looks like this:
2
U.S.: $10,246
Australia: $5,331
Germany: $5,033
Canada: $4,754
Japan: $4,168
United Kingdom: $3,858
Singapore: $2,618
It's also worth noting that more Americans die by preventable and treatable medical conditions than in those countries, as well.
3
This is one those expenses that can make it tough for consumers to save money. One reason is because health care pricing isn't transparent. Even if you shop around for a low-cost procedure in a hospital, you're still likely to get hit with other separate charges. For example, the expense of an out-of-network anesthesiologist who happened to be working on the day of your operation. Most patients do not get the bill they were expecting, and it often comes a few months down the road. Another reason we have a hard time curbing spending is that U.S. health care doesn't benefit from the normal principles of capitalism. Without greater transparency of fees, there is very little competitive pricing that would normally help drive costs down. Health care is expensive whether you're still working or retired. There are several ways to help you save in case you have excessively high health-care costs in the future, such as a health savings account or a whole life insurance policy that allows you to tap into a growing cash account. If you'd like to learn more about flexible ways to save or help leverage assets for high care costs, please contact us.
Read More
Fresno Retirement Consultant News: Home Health: Has the Time Come?
The health care industry has been trying to contain expenses through technology offering medical services to people at home. Some insurance plans offer a 24-hour nurse line, allowing you to call a nurse for advice in the middle of the night about a child's high fever rather than rush to the emergency room. Some providers promote telemedicine for chronic care patients, using a quick video conference to update patient information and allow for a cursory visual exam. This growing trend has accelerated in light of the coronavirus, which may well be a silver lining. In recent months, virtual care has skyrocketed in use as consumers quickly adopt technology-enabled physician visits as a safer option. Before the pandemic, an average 13,000 Medicare beneficiaries received telemedicine in the span of a week. By the end of April 2020, nearly 1.7 million a week engaged in telemedicine calls.
1
 On average, a telemedicine call costs $79 versus $146 for a doctor's office visit.
2
This has been particularly key for elderly patients who tend to need more health care but are also more vulnerable to the devastating effects of COVID-19. In fact, seniors who receive in-home assisted living have avoided the rampant contagion that has been occurring in nursing homes.
3
 To further assist the at-home elderly, the Centers for Medicare & Medicaid Services proposed a rule in June that would permanently allow reimbursement of administrative expenses for home-health agencies registered with Medicare. Today, about 6 million older Americans receive some form of home-health care, such as skilled nursing, physical therapy, speech-language pathology, occupational therapy, home health aides and medical social services. The Trump Administration is also recommending upping payment rates for home-health providers by 2.6% starting in 2021.
4
The reality is that people are living well into old age and most people in their late 80s and 90s do need in-home care assistance, whether medical or otherwise. It is very expensive. If you would like to explore ways to help leverage your retirement assets in the event you need to pay for in-home care during your later years, please contact us.
Read More
Fresno Financial Consultant News: Is it Time to Go Global?
Competitive edge is a real factor. Here in the U.S., we boast that capitalism is the key to our success. Unfortunately, that key has gotten a little rusty lately thanks to the rampant spread of COVID-19 throughout the country. Some areas have locked down or experienced slowed economic growth because of safety protocols that prevented business as usual. The principles of capitalism – such as competition and supply and demand – have been crippled.
1
 On the other hand, countries that were hit early on with the pandemic have managed to control the contagion and reopen their economies.
2
 Market analyst Carl Kawaja believes this comparative advantage gives way to more global opportunities than the U.S. can currently pursue. In his words: "I like to compare it to basketball – a sport where the U.S. historically has been fairly dominant. But then Argentina started getting better, and Greece started getting better, and Spain started getting better. And, the next thing you know, the U.S. lost the Olympics."
3
The good news is U.S. investors can take advantage if international companies pull ahead in the near-term while we struggle to flatten the curve of contagion. If you would like to consider ways to incorporate more global equity opportunity within your asset allocation, we're happy to work with you. Don't hesitate to reach out to schedule a consultation. Regardless of the state of the pandemic, it's important to recognize that not all the best investment opportunities are in the United States. According to the World Bank, in 2018 the nation represented only 44% of world stock market capitalization.
4
Read More
Fresno Retirement Advisor News: The Future of Retirement Planning
As of the end of July, the stock market was still performing relatively well and the Federal Reserve had announced no near-term changes to interest rates.
1
 However, other economic news was not as rosy. According to the Bureau of Economic Analysis, the U.S. economy contracted by nearly a third (32.9% annual rate) in the second quarter of this year.
2
The pandemic has taken quite a toll on the U.S. economy. While eventually the economy will recover, individuals may want to re-assess their retirement portfolios going forward. Long term, it's important to consider what types of permanent changes may take place post-pandemic, and how to anticipate them for long-term retirement planning. For example, one of the issues with employer-sponsored 401(k) plans is that they are designed to take advantage of tax-deferred growth. However, given today's historically low tax rates, that is less of an advantage than it was when the idea was first introduced. Consider a median-income married couple with two children:
3
In 1980, the marginal federal income tax rate was 43%. Today, it is 12%.
In 1980, the capital gains tax rate was 28%. Today, it is 0%.
In 1980, interest rates were around 15%. Today, they are 0%.
Tax rates could be adjusted upward in light of the debt America continues to accumulate through COVID-19 stimulus efforts. However, they may not rise as high as tax rates were back in the early '80s.
Read More
Other Fresno Financial Advisor Articles

Our firm is not affiliated with the U.S. government or any governmental agency. We are an independent firm helping individuals create retirement strategies using a variety of insurance products to custom suit their needs and objectives. This material is intended to provide general information to help you understand basic retirement income strategies and should not be construed as financial advice. Investment advisory services offered only by duly registered individuals through AE Wealth Management, LLC (AEWM). AEWM and Soutas Financial & Insurance Solutions, Inc are not affiliated companies. California Insurance License # OK48173 The information contained in this material is believed to be reliable, but accuracy and completeness cannot be guaranteed; it is not intended to be used as the sole basis for financial decisions. Investing involves risk, including possible loss of principal. Insurance product guarantees are backed by the financial strength and claims-paying ability of the issuing company. Diversification cannot ensure a profit or guarantee against losses in a declining market. If you are unable to access any of the news articles and sources through the links provided in this text, please contact us to request a copy of the desired reference. 722736 – 9/20